RESULTS.com is excited to announce our latest release which includes new features as well as enhancements to existing features found within RESULTS.com and we've also packed in a number of performance improvements
New Features
New Navigation Bar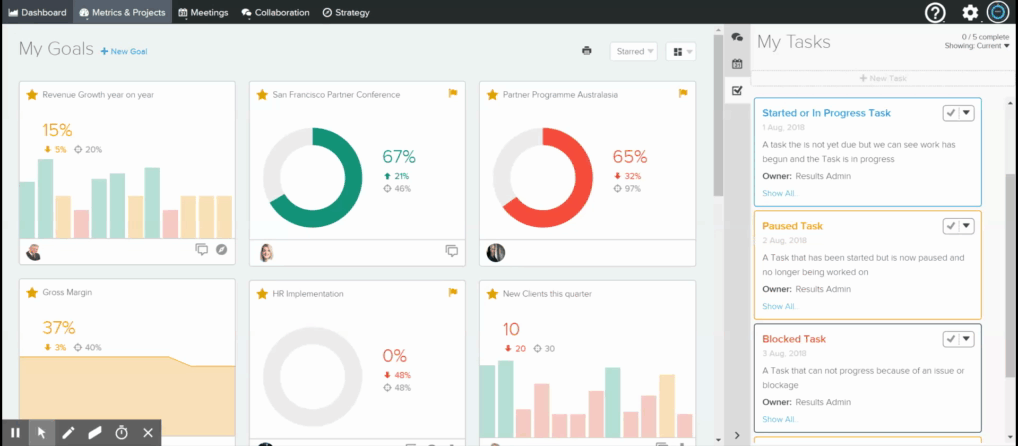 The Navigation has moved  from its outdated left side position to a new home at the top of the platform
The change will give more screen real estate for the important things in RESULTS.com and is phase one to more exciting features coming soon!
Dashboard will still take you to your personal space which gives you clarity on how you contribute, what you're accountable for, your upcoming tasks and meetings as well as the Watercooler.
A single click on Strategy will open your company vision and strategy displayed on a single page along with the key steps and initiatives needed to get there.
KPI's & Projects gives access to the "Teams page", archived goals as well as their Data Source such as webhooks.
Meetings are where you can access your RESULTS meetings calendar and now also jump straight back to a meeting by clicking resume. We've made the Parking lot easier to find by placing it under Meetings.
Collaboration is where you will find connect but you will now also have access to a full-screen Watercooler, perfect for teams that use big screens to display dashboards and other info
The Help icon is still the best place to access our support page and online training videos and upcoming webinars
The new Accounts Setting icon is Site Admins can change anything related to the setup of your account. Company setting, User setting, and Team settings. You can also manage your Integrations or Connected Applications.
Finally, your Profile Picture is where you will find your profile setting as well as your personal preferences
Strategy Execution Methodology 


RESULTS is proud to offer Scale-Up (Gazelles Methodology) and Trac-Plan (EOS Methodology) strategic plans along with the Results methodology. It is as simple as choosing your methodology from the list and your strategic plan is set accordingly.
To select the methodology, click on the settings cog wheel on the top right and then click on the Company page. Here under Organization settings, you will see "Strategy Execution Methodology". Click on the edit icon and in the right pane under 
Improvements
Goal creation 

As our commitment to continuously improve goals, we have simplified the new goal creation process. Clicking on any basic level radio option will auto-progress the goal creation without needing to click on Next, removing the need for multiple clicks.
Integration Authentication 

We have also simplified connecting applications (previously integrations) to RESULTS.com. When a new connection is created, you will automatically be asked to authenticate (provide your credentials etc) the new connection. This saves multiple clicks for the user and simplifies the authentication process.
Speed Improvements 

Lightning fast KPI data in goals and Tasks on "Me" page"
We have implemented lazy loading on Dashboard and Goals to improve performance.  With lazy loading, an object in the feature is not loaded until the point at which it is needed. It can contribute to efficiency in the program's operation if properly and appropriately used.
On Your Dashboard: You might have 100's of tasks on your dashboard which will impact your platform performance. With lazy loading, only the first few tasks on your dashboard are displayed and they appear as you scroll through them. This will load your dashboard 10 times faster. 
In Goal KPI data: With every day your goal KPI data is increasing and as days pass there will be hundreds of data points and this slows down your goals considerably. With lazy loading, you will see the recent data points displayed instantaneously as the data tab is opened and the old data loads as you keep scrolling down. 
We've also made API changes which should have huge performance improvements. The application should be a lot faster. You will see performance improvements on the Meetings calendar
Meetings

We've been adding new agenda items with each release and there is no difference with this release. We are excited to announce 3 new items:

TEAM GOAL REVIEW
Now you can have an agenda item focus on the goals of a single team. You can add this agenda item multiple times to a meeting so you can view the Sales teams metrics followed by the Marketing teams metrics in the same meeting if you choose.


STRATEGIC PLAN
Bring in your RESULTS.com One Page Plan using the Strategic Plan agenda item so you can review, take action and capture next steps right within a meeting


STRATEGIC PLAN GOAL
You can also bring in just the Projects and Metrics from your One-page plan. This is a great agenda item to focus in on your company's key goals and drive accountability.


Enhancements 
We have also added minor enhancements thought out the platform. Some of these include the option to display your task in the left side panel on your personal Dashboard. 

Static Headers for the Teams Page and KPI data pages. The header will no longer disappear as you scroll down the page
We've made it easier to find "hidden until hover" icons across the platform. The icon will fade to a light grey until you hover over the icons, this will darken them so they become be fully visible. You find this on the Teams page, Strategy page as well as meetings
We've also added character counters to the Watercooler and Tasks and have addressed a number bugs as part of this release.